Hi guys, sorry I haven't posted for a week but my valid reason is that I had a problem with my internet on my laptop so there was no way that I could access my blog but I'm back and ready to blog again. So there were a lot of weird beauty trends in 2016 and some of them were weird and wonderful but some were just plain awful. Please don't take any offence to this if you did take part in any of these trends because I a, guilty of a lot of these trends and this isn't meant to be too serious. I hope that you guys enjoy and without further ado let's get started!
---
Furry Nails
This is definitely one of the weirdest trends on this list and it is basically to have fur on your nails. It is completely impractical and in my opinion it really doesn't look great. Whenever you rub your eye or you your makeup etc, you will get hairs all over your face even if you are super careful because if you are going to have hairy nails it is purely inevitable. The first time they showed up were in fashion week and since then they have taken off on Instagram purely because they were in fashion week but I hope in 2017 there is a new nail trend.
---
Watermelon EVERYTHING …
This is one of the most popular trends and it is involved in fashion, beauty, phones, hair and loads more. I love watermelons as a fruit and as pictures with cute faces on there but nothing other than that. I am totally guilty of this one because I love watermelons but it has been around for all of 2016 so I think it should die out in 2017. I think it should die out because it has got a bit extreme now because there is watermelon hair and shoes and loads more. I do love this but I think 2017 is the end of it. I'm sorry to anyone who loves this trend.
---
Freakshakes
Next I have freakshakes which are the extremely unpractical food of 2016. They are basically milkshakes with a full dessert stuck on the top. The milkshake itself will taste nice but by sticking so much stuff on the top you are guaranteed to get a stomach ache. It is basically diabetes in a jar and to be honest they look ridiculous. I have tried 2 and I hated them both because even though I have a sweet tooth this was way too sweet. Plus they are way too big for a normal human to consume after a meal. Once again I am sorry to anyone who liked these.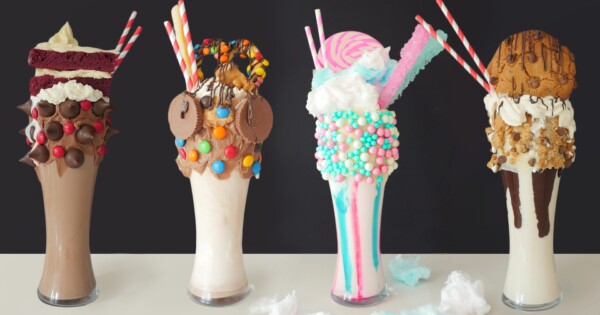 ---
Other trends I think should die are :
Sparkly Roots
Rose Gold Hair
Instagram HD Brows
Rainbow Doughnuts
1000 Degrees Knife vs … challenge
Lots more……………