Hi guys, so today I'm going to be doing a post about the characters in Pretty Little Liars. I love Pretty Little Liars because the show is so full of mystery and it is a very popular show. The show is about 5 girls who are best friends. Their names are Alison, Spencer, Emily, Aria, and Hannah. One night at a sleepover, the leader of their friendship group (Alison) disappears. The 4 of the friends start to disconnect and then a year later Alison's body is found and at the funeral and at the end of the funeral they all get a message from someone called -A who is their stalker and they torment the girls for the next 7 years. The girls figure out there was more to Alison's disappearance than they thought so they figure out the mystery of Alison's disappearance and they also have to spend their time figuring out who -A is. There will be a lot of spoilers in this post so unless you want the show to be spoiled for you, I wouldn't read on. Anyway, I hope that you guys enjoy and let's get started!
---
 Alison DiLaurentis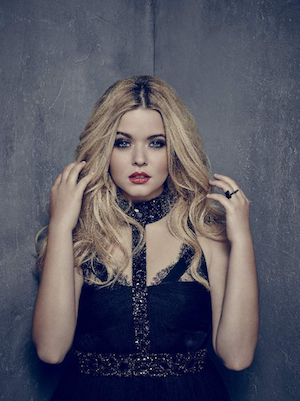 Alison disappeared but before she did she was the queen bee of Rosewood High and her 4 best friends were ruled by Alison. She disappeared but the truth actually was she was alive but the night she disappeared -A hit her in the head with a rock because of a mistaken identity but then she was buried alive and she had to escape and then she spent years running from -A. The body that was found was the body of Bethany Young who was admitted to a mental hospital and the night she was killed -A thought she was Alison because she was dressed just like her and Bethany's hair was also the same as Alison's. I know this probably sounds really complicated but it makes a lot more sense when you watch it and it is spread out over 7 seasons. Alison returns in season 3 to save the liars from a fire that -A set because -A knew that if the girls were in trouble Alison would come and save them. They thought that they were just seeing Alison because they were hallucinating but the -A team figured out she was actually alive. She came back for good in season 5 but after that, she helped the girls with the mystery of who -A  and -A.D. was. Her mom dies in the series and she struggles to deal with it when she returns. In the end, Alison ends up with Emily and they have 2 children. Alison is played by Sasha Pieterse who is absolutely perfect for Alison because first of all, she is absolutely stunning and second the way she portrays herself on the show seems to fit with her look if that makes any sense but in the end Alison becomes such a good person compared to how she was in the start.
---
Spencer Hastings
Spencer is the liar who is a sort of an over-achiever because she is always pushed by her family to be the best at everything she does. At the start of the series, she struggles with an addiction to drugs that hold her attention for example Adderol. Throughout the series, she continues to have that. During the show, she becomes one of the main targets of -A. For example, she was forced to come on to the -A team and at one point she was sent to a mental hospital because of the amount of damage that being on the -A team did to her and she got amnesia which led to her not wanting to be Spencer Hastings anymore. The night that Alison disappeared, Alison had drugged the drink that the four of them had because she realised that if the four of them were asleep and she got an -A message then -A couldn't be any of them but Spencer had a lot of Adderall that night so she was only asleep for a short time and when she woke up she went to look for Alison and when she got back to the barn she said to them that she had heard Alison scream. She always had an on and off friendship with Alison because Spencer was the only one who seemed to stand up to Alison. Spencer is a constant savior of the girls in the show and she is generally amazing despite the amount of pain she went through in the show. Spencer ended up with Toby Cavanaugh who was suspected of killing Alison at the start of the show and the other liars didn't think their relationship was right at the start but Toby because better and better throughout the show. Spencer is played by Troian Bellisario who is perfect since she is absolutely beautiful and more than capable of playing so many different moods. She played her time at the mental hospital just as well as she played her normal self. Spencer is the smartest of the group and it constantly figuring out the horrible puzzles that -A leaves for them.
---
Hanna Marin 
 Hanna the fashionable one of the group in the time when Alison was alive Hanna had issues with her weight because she was going through a rough time with her parent's divorce and she ate as a release but then Alison said she had a way for Hanna to get rid of her weight which was to throw it up which was what Alsion was doing but then Hanna realised that was a bad idea and had to suffer because everyone was calling her Hefty Hanna. After Alison died, she transformed herself by losing all her weight and getting a new wardrobe but she and Mona started shoplifting. When she became best friends with the liars she stopped shoplifting and became a better person. At one point, -A hit Hanna with a car because apparently "she knew too much". In the last season, Hanna follows her dream of becoming a fashion designer. Hanna struggles when Alison comes back and but they become the best of friends again. Hanna has the best sense of humour out of the liars and she always says things as they are. For example, when Emily got an ulcer she just said to everyone "she's got a hole in her stomach". Hanna's sense of style is impeccable and she has a will of iron which always get's her what she wants. Hanna ends up with Caleb Rivers who is an ex-computer hacker. She is very clever about how they get the identity of -A and she always has original ideas on how to uncover mysteries and she is willing to give up everything for her best friends and her family despite how non-caring she makes herself look. Hanna is played by Ashley Benson who is an amazing actress and her look is perfect for Hanna's personality.
---
Emily Fields
Emily is such an amazing character on pretty little liars and she is the beating heart that keeps their group together even in hard times. She is a competitive swimmer and in the first season, she had a really hard time because she came out to her friends and family as gay and she was dating Maya St Germain who died in season 2 and Emily has a very hard time dealing with it. Before Alison died, she had feelings for Alison but Alison constantly turned her down but at the end of the series Alison and Emily are together and they have to kids which was because of -A but that bit is hard to explain. Emily always had a hard time with -A, for example, when -A put Human Growth Hormone in Emily's lotion which could have stopped her from competitively swimming and -A secretly gave her a massage which sounds weird but it makes more sense if you watch it. The way that Emily deals with the trauma she has had in her life is amazing. Her dad also died which was really hard on her it partly screwed up her life but her friends and her mom pulled her through. Emily is played by Shay Mitchell who is one of my favorite actresses because she is absolutely stunning and the way she plays her Emily just brings so much empathy to you. I love how she portrays the character and I'm really sad that I can see Shay play Emily in any more new episodes.
---
Aria Montgomery
Aria is the arty one of a group and her friends have been her rock even in her harder times. She went through a really hard time in season 7 when she was blackmailed into joining the -A team.  Aria went through a lot of trauma and her brother also went through a very hard time when her parents almost split up and her relationship with her English teacher was hard because it was always secret. |Then she found out  Ezra was writing a book about her and her friends, especially Alison and then everything spiraled and hit rock bottom but in the last season, they got married. -A was always hard on Aria but Aria was always so determined to find out what happened to Alison that she fought as hard as she could to find closure on the investigation despite all that -A had done to them. Aria is played by  Lucy Hale who is an amazing fit for Aria and she is an absolutely amazing actress too. I love she portrays Aria in the show.
---
I hope that you guys enjoyed and I will see you next time with another blog post. Bye!